Buyout plan for historic Strathpeffer Pavilion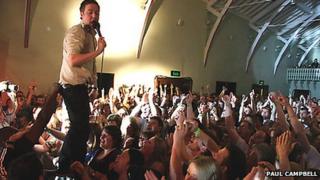 A historic Highland pavilion could be brought into community ownership under plans by its board of directors.
The Strathpeffer Pavilion has in the past hosted events as diverse as a rally by suffragette Emmeline Pankhurst and a performance by Kaiser Chiefs.
The Ross-shire property, which opened in 1881, is owned by the Scottish Historic Buildings Trust.
Pavilion staff are seeking public views on future uses of the building, as part of the process of taking it over.
As part of the research, a public event will be held at the pavilion on 2 May.
The Victorian-era property is currently used for gigs, dances and can be hired for weddings.
'Prosperous future'
Staff will mark the 10th anniversary of a major refurbishment of the site next year.
General Manager Andrea Muir said: "As we look forward to our 10th year since re-opening, I feel it is vital that we use this opportunity to take stock and fully engage with our audience.
"Only by doing this will we be able to devise a clear plan for the future."
She added: "The reason for conducting this research is to ensure that this iconic and well-loved venue continues to have a vibrant and prosperous future and continues to benefit as many people as possible."
The pavilion has its roots in the Strathpeffer's Victorian past.
Visitors, including royalty and members of high society - dubbed "the Quality" by locals - came to the village to drink its water, which was said to have health benefits.
Built at a cost of £2,769, it was officially opened by the Duchess of Sutherland in 1881.
It would go on to host performances and lectures delivered by Irish dramatist and political thinker George Bernard Shaw, Antarctic explorer Ernest Shackleton and Pankhurst, one of the leading figures in the campaign for votes for women.
During World War I the pavilion was used as a hospital for US Navy sailors.
Buildings in the village were again requisitioned by the military during World War II.
Years later, the pavilion set the stage for gigs by the Bay City Rollers, the Fortunes, Nashville Teens and Brian Poole and the Tremeloes.
However, regular use of the property waned by 1978 and it lay almost unused for 25 years before a fund-raising effort led to its restoration.