Inverness West Link: MSP says A890 upgrade should be priority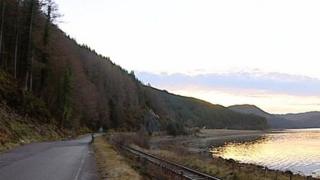 An MSP has said that Highland Council should make upgrading the A890 Stromeferry bypass a priority over the controversial Inverness West Link.
Rob Gibson said the local authority was sitting on a pot of money to pay for the city road.
He said these funds should be diverted towards improving the landslide-hit lifeline rural route.
Highland Council has said finding a solution to preventing rock falls affecting the A890 was a priority.
The West Link has been at the centre of rows over its planned route, which would take it over an area of public parkland.
Winter landslides
On Tuesday, BBC Scotland revealed that house builder Tulloch Homes and supermarket chain Tesco lobbied Highland Council to pursue that route.
Campaigners fighting to save the parkland have accused the council of putting developers before the public.
But council leader Drew Hendry denied the local authority had been unduly influenced by commercial companies, and he said the West Link process was transparent.
Tulloch Homes said it had not lobbied councillors or council officials. A spokesman also said that it had been the company's understanding that its submission to a public consultation on the road in 2011 was a public document.
The Stromeferry bypass was closed by a landslide for three days in December last year.
Almost 20 tonnes of debris came down on the stretch of road, causing a diversion of almost 150 miles (241.4km) for motorists.
The closure was the second to hit the Lochcarron to Kyle route in a year.
In December 2011, it was shut by a landslip which involved 100 tonnes of rock.
This left it blocked for four months and sparked a Highland Council investigation into how to prevent further disruption.
Mr Gibson, SNP MSP for Caithness, Sutherland and Ross, said the local authority should delay the West Link and concentrate on the A890.
He said: "Highland Council must see its priorities in a Highland-wide setting.
"I believe Highland Council has been sitting on the money that it's got for development of this West Link and in the meantime, whilst arguing over avoiding 10 minute traffic jams, there is a life and death situation on the west coast at Stromeferry."
Highland Council is holding public consultation on its plans on improving the bypass.
In a statement highlighting the consultation, Graham Phillips, chairman of transport, environmental and community services, said: "The council has given priority to finding a solution to the recurring rock falls at the Stromeferry bypass.
"We fully appreciate the inconvenience and the impact on schooling and local businesses of road closures, which result in a 140 mile diversion for road traffic."