Sexy Peat arts project aims to promote Lewis peat lands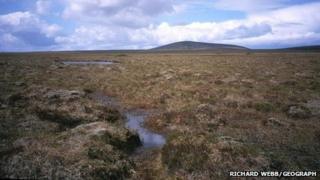 An arts project called Sexy Peat aims to encourage better understanding of the ecology and heritage of peat lands on the Isle of Lewis.
The island's peat and blanket bogs support wildlife and act as a natural store of potentially harmful carbon.
Artists have been invited to create contemporary visual art to raise the profile of the peat lands' importance to the environment and local people.
Creative Scotland is funding the project.
The money is coming from the organisation's Year of Natural Scotland Fund, which is supported by Scottish Natural Heritage (SNH).
Inverness-based Highland Print Studio and international not-for-profit programme Cape Farewell are leading Sexy Peat.
In Scotland, soils such as peat store more than 3,000 megatonnes of carbon posing a potential threat to the environment, SNH reported in 2010.
The government agency produced a strategy with the aim of protecting areas such as peat lands and reduce the chances of "carbon leakage".
A megatonne is one million tonnes and is used to describe large amounts of CO2 emitted by power stations.
RSPB Scotland is restoring blanket bog at Forsinard, which forms part of the Flow Country in Caithness and Sutherland.