Possible European court challenge on crofting evictions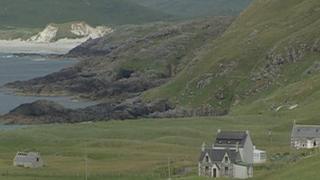 Absentee crofters being evicted for not using their land have joined forces to challenge the decision and may take their fight to the European courts.
The Crofting Commission has started to terminate tenancies and says in most cases amicable solutions are being found.
That policy is also proving unpopular with resident crofters who say it is the wrong approach.
The Scottish government said it was committed to tackling absenteeism.
One of those concerned about the way in which absentee crofters are being challenged is Hugh Maclellan.
His family croft is near Durness. Although he is resident on the croft, he worries that his son may not have any right to retain the croft in future.
'Make a stand'
"If he's put off it then all the culture and all the heritage that's here and belongs to our family will be gone," he said.
"I'm not sure how he will feel about that.
"I feel I've got to make some kind of stand to make people aware that if they don't try and change something now then something will be lost that's very special, in the future."
Jeremy Gow, who lives in Angus, has been evicted from a croft he had in the Melness and Talmine area in north Sutherland.
He said: "It is only four acres and I am part of an estate of over 20,000 acres. If someone else wants a croft, carve up another bit of land.
"How can someone who is a Scot, pays taxes in Scotland, runs a business in Scotland and employs people in Scotland, get four acres of land taken away?"
'Every opportunity'
The Crofting Commission said Mr Gow had failed to take up the opportunity to live on or sub-let his land. It added that it tried very hard to work with crofters.
Susan Walker of the Commission said: "The commission... doesn't want to terminate tenancies.
"It wants crofters to take action and make sure their crofts are lived on."
A spokeswoman for the Scottish government added: "The commission is working with absentee crofters to find suitable solutions, giving them every opportunity to resolve the situation.
"Only where this has not been possible, and if consent to be absent has not been granted, has the commission taken action to ensure crofters meet their statutory duties or are replaced by crofter who will."