Diageo plan new malt whisky distillery in Easter Ross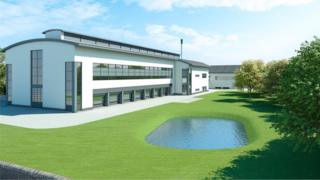 A major new malt whisky distillery is being planned for Easter Ross.
Diageo, the biggest distiller of Scotch, has chosen a greenfield site near Alness, next to the existing Teaninich distillery.
With 16 copper stills, it would have the capacity to distil enough for 13 million litres of spirit each year, equating to 45 million bottles.
It would cost £50m to build, if it secures planning permission from Highland Council.
While it will bring construction jobs to Easter Ross, the plant can be run round the clock by only 20 people.
It is intended to have a bio-energy plant on site, to convert by-products into power for the distillery.
Emerging markets
The site near Alness, which will have its own name and identity, will be the second major malt distillery built in more than 30 years. It follows Roseisle in Moray, which began production in 2009, and which has a capacity for 10 million litres of spirit each year.
Diageo had a short-list of three sites where it could have built the next major distillery. Teaninich beat two options on Speyside, at Glendullan and Inchgower.
While Teaninich will also have £12m spent on expansion, the company has a wider, £30m programme being announced on Wednesday for Speyside.
Glendullan is to have a new bio-power plant for anaerobic digestion of distillery waste, and there is to be a new still-house at Mortlach distillery in Dufftown.
The latest range of capital spending forms part of a £1bn, five-year programme of investment in Scotch whisky capacity by Diageo.
Speyside has already announced a £40m package of upgrades and new power plants at 10 of its distilleries. The firm is also expanding at Muir of Ord in Ross-shire and it is building new warehousing near Kirkcaldy in Fife.
Along with other distillers, Diageo is investing in the expectation that sales of Scotch whisky to the new middle class in emerging nations will continue to grow rapidly. The value of exports has risen 87% in the past decade, although figures out this week showed that it slowed significantly in 2012.
Last year saw a 1% rise in value and a 5% drop by volume, much of that explained by sharp declines in France and Spain, which are in the top four export markets.
Brian Higgs, director of malt distilling at Diageo, said: "All three sites we considered for the new malt distillery were excellent potential locations but after detailed investigations Teaninich came out just ahead in terms of the many complex logistics required when planning such a development."
He said the combined investments on Speyside are equivalent to a big new distillery there.