Expansion plan for Inverness Marina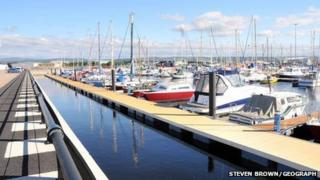 Inverness Marina is to be expanded in a bid to encourage more visitors.
The marina and site, situated on 26 acres of land reclaimed from the sea, opened for business in summer 2008.
Now the facilities at the marina are to be improved and expanded with the aim of attracting more tourists and boat owners to stay in the area for longer.
Bank of Scotland, who backed the original marina development, is providing £150,000 in additional funding for the upgrades.
Plans for the expansion include a new visitors building with office and retail units and showers and toilets.
Inverness Marina Limited managing director Jamie Hogan said: "Since day one, the marina has been a great success. 50% of our business is from foreign boat owners, so it's clear to see that we're managing to attract tourism and inward investment to the Highlands.
"A large number of our visitors are staying for two to three nights and we're hoping the latest developments will encourage more people to stay longer.
"The construction of a new marina building is really just the start of what we hope will be a long-term positive ripple effect in the area. A number of exciting possibilities, including retail space and a hotel, have already been discussed so it can only be good news for Inverness and the region as a whole."
Bank of Scotland's relationship manager David Hamilton, who has worked with the marina project since it was originally proposed, added: "Inverness Marina really has the potential to be an economic catalyst in the region.
"The setting is stunning and the possibilities are endless. There are a number of neighbouring sites with potential for further development so it's evident that the marina is going to have an incredibly positive long-term impact."