Lochaber residents urged to have resilience plans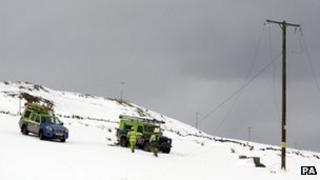 People living in Lochaber are being encouraged to plan for severe weather events as snow and ice disrupts power and travel in many parts of Scotland.
More than 1,600 homes, including properties on Arran, have spent a fifth night without electricity.
Highland Council is urging residents of Lochaber to put together a household resilience plan, which includes a check list of food and equipment.
The area includes some of the most remote communities in the Highlands.
The council said it wanted to be sure people were able to cope with being stranded in their homes for long periods without electricity, water or communications.
The local authority will hold workshops at Lochaber House in Fort William on 18 April from 15:00-19:00 to help residents draw up plans.
Representatives from Police Scotland, the fire service, Lochaber Mountain Rescue Team and SSE will be among those attending to give advice.
Provost of Lochaber, Allan Henderson, said heavy snowfalls affecting other parts of Scotland had highlighted how vulnerable communities can be.
He said: "Would you know how to deal with an unexpected dangerous situation in your community if emergencies services or help could not get through to you - how would you and your neighbours keep yourself safe?
"Being prepared for the unexpected and making your community more resilient is what this workshop is all about."