Muck switches to 24-hour power supply for first time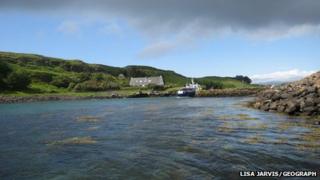 Islanders on Muck have switched to a 24-hour power supply for the first time after six wind turbines and a number of solar panels came on stream.
Until about a week ago, the 38 residents relied on diesel generators.
Power had to be rationed to nine hours a day and households were given slots when they could run washing machines.
Isle of Muck Community Enterprise Ltd secured £978,840 from the Big Lottery Fund last year to help pay for the renewable energy projects.
Muck is in the Small Isles along with Eigg, Rum and Canna.
In 2011, Isle of Eigg Heritage Trust was named overall UK winner in the Ashden Awards for Sustainable Energy.
Residents of Eigg get more than 90% of their electricity from hydro, solar and wind schemes.
As well as micro hydro-electric schemes, the island also has wind turbines and photo-voltaic cells which harness the power of the sun.
Ironically, the trust's award win came days after a lack of sufficient rainfall affected the hydro projects and diesel generators had to be used to charge batteries that provide households with electricity.