Restoration work on abandoned Mingulay's schoolhouse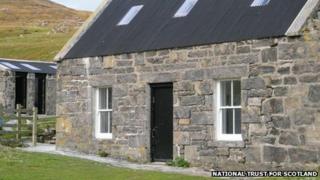 A schoolhouse on an island abandoned by its residents more than 100 years ago is being restored by the National Trust for Scotland (NTS).
Mingulay, 12 miles (19km) south of Barra in the Western Isles, was inhabited for thousands of years.
Most of its population of about 140 left between 1910 and 1912 because life on the island became too challenging.
NTS started conservation work on the schoolhouse last year and volunteers plan to return there this summer.
The building dates from the late 19th Century and, once restored, it will be made available to researchers and conservationists.
Storms
Extracts from the school's log book featured in an online project in 2011.
Its last pages tell of storms preventing younger children from attending school and the teacher's stock of coal for a fire being "exhausted".
Before abandoning the isle, residents subsisted through a combination of fishing, hunting seabirds, weaving and crofting.
Mingulay has been in the care of NTS since 2000.
Last year, the trust and the Islands Book Trust marked 100 years since the abandonment with talks, lectures and a boat trip.