Star chores: Do Jedi want to marry people?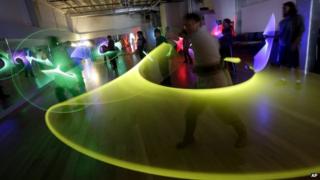 The Free Church of Scotland is worried changes to the law on marriage will lead to Star Wars Jedi marrying couples. But do Jedi want to help people tie the knot in the first place?
The Scottish government is consulting on its draft Marriage and Civil Partnership (Scotland) Bill.
It has sought views on the introduction of same sex marriage and how religious bodies, freedom of speech and education should be protected.
The consultation also looks at how religious and civil partnership ceremonies could be joined by a new category covering ceremonies performed by organisations that promote a non-religious belief.
The Free Church of Scotland is worried that this move could be damage the sanctity of marriage.
Its spokesman, Stornoway Free Church of Scotland minister the Reverend Iver Martin, told BBC Alba: "There are loads of people in a diverse society like this for whom belief can mean virtually anything - the Flat Earth Society and Jedi Knights Society - who knows?
"I am not saying that we don't give place to that kind of personal belief, but when you start making allowances for marriages to be performed within those categories then you are all over the place."
The government said protecting the reputation of Scottish marriage ceremonies was at the heart of its proposals.
But what do Jedi enthusiasts make of the row and are they actually interested in blessing marriages?
Patrick Day-Childs, also known as Master Chi-Pa Amshe, is spokesman for the UK's Church of Jediism.
He said there was demand for Jedi to bless marriages and added that the Free Church of Scotland should not be threatened by that.
"We're open to all forms of marriage and the joining of two people who love each other in anyway shape or form," said Mr Day-Childs.
He said wedding ceremonies in the US can be blessed by a Jedi. Another organisation, the Jedi Church, even suggests a form of words for vows.
Mr Day-Childs added: "We've actually been working very hard lately to understand just how we can do it here too.
"We strive to work with other churches, cultures, religions and organisations not against them, so no they have nothing to be concerned over."
The Church of Jediism regards itself as a religious body and its members include people who list themselves as Jedi in the census.
About 390,000 people listed their religion as Jedi in the 2001 Census for England and Wales. In Scotland the figure was a reported 14,000.
Mr Day-Childs said: "Recently due to popular demand we've began looking into expanding even more and we'll be holding at talk at Bristol Comic Expo."
He added: "We work with members to try and find their special skills then we work to find a way that they can use that skill in life to help others.
"In my case it's gaming so I get sponsored to play games for charity from time to time and ran a website that donated profits to various charities."
Akkarin aka Michael Kitchen, of the Temple of the Jedi Order, another UK group, said organisations like his own were often misrepresented. He said his group, which follows the Jedi religion of The Force, did not use lightsabres.
He said: "For myself personally, as well as many within our Church, Jediism is most certainly our religion.
"The ability to perform marriage services, of which we have done in the past, is a key responsibility amongst our ordained clergy."
'Theological questions'
Alain Bloch, head instructor for San Francisco Bay-based Golden Gate Knights, has been invited to preside over a marriage in California.
He said: "Though the Golden Gate Knights are huge fans of Star Wars, we do not take Star Wars, or quotes from Yoda, as a meaningful basis for religion or spiritual inquiry.
"Our group meets to train in stage combat choreography. We do not meet to discuss lofty theological questions."
Mr Bloch said Jedi performing marriage ceremonies was a sign of a shift towards a more secular society.
He added: "I believe the trend of citizens declaring themselves as 'Jedi' is in the spirit of satire. Incidentally, Han Solo calling it a 'hokey religion' is nearer to the truth than anything.
"There is nothing to worry about Jedi performing marriages as long as no-one gets their hand cut off by an errant lightsaber."
Meanwhile, a spokesman for the Flat Earth Society said: "I make it a point of not speaking on behalf of the Flat Earth Society about matters not directly related to Flat Earth Theory, but as a private individual, I certainly don't have an issue with members of the Jedi Knights Society performing ceremonies.
"I'm more of a Star Trek guy myself, to be honest, but I'm always happy to hear about other groups with interesting views that might fall a bit outside the mainstream."