Council opposes same-sex marriage opt-outs for registrars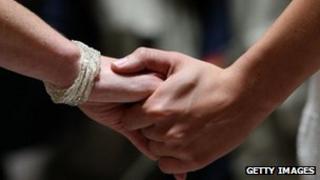 Civil registrars should not be able to refuse to marry same-sex couples, Highland Council has suggested.
In draft responses to consultation on the Marriage and Civil Partnership (Scotland) Bill, the local authority said it welcomed changes to the law.
The consultation asks if registrars should be offered "opt-outs".
The council said this would not be appropriate, adding that there should be no specific opt-outs on religious or belief grounds.
The response drafted by council officers will be considered by councillors next week.
On the question of "opt-outs", officials said: "The law is clear that when someone is providing a public service, they cannot, because of their religion or belief, discriminate unlawfully against customers or service users.
"Registrars are employed to deliver a public function and may be required to solemnise same sex marriages.
"This is similar to requirements that have been placed on some registrars since the Civil Partnerships Act 2004, meaning many have been required to perform civil partnerships as part of their duties."
A report accompanying the response said there was evidence of a positive view in the Highlands towards same-sex marriages.
The report quotes a 2011 public performance survey in which 53% of respondents agreed that gay or lesbian couples should have the right to marry. The survey found 25% of respondents disagreed.