Fares on Highland Council's Corran Ferry could rise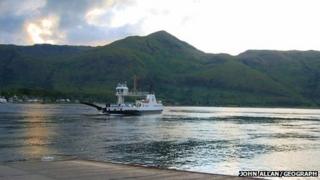 A smart card payment scheme could be introduced for regular users of the second busiest ferry service in Scotland.
The Highland Council-owned Corran Ferry operates on Loch Linnhe in west Lochaber.
It has been proposed to introduce a smart card to ease the payment of fares for the crossings between Nether Lochaber and Ardgour.
The council also wants to increase the costs of some fares.
Under the proposals, discounts offered to HGVs would end. The price for a two-axle vehicle of under 7.5 tonnes could also rise from £11.20 to £14.60, and from £28.10 to £43.80 for five or six axle HGVs.
A single crossing in a car could increase by 30p to £7.30, while a book of 30 tickets for a car could go up from £55.60 to £57.80.
The council has proposed offering regular car commuters unlimited travel for £40 a month, and provided they make the payments for the smart card by direct debit.
Major repairs
The plans will be discussed by Highland Council's transport, environmental and community services committee on Thursday.
Money raised from the fares is used to pay for the upkeep of two ferry MV Corran and a reserve vessel, Maid of Glencoul, and the piers.
About three years ago major repairs had to be made to the slipway at Nether Lochaber after the powerful propulsion of the MV Corran caused damage to concrete and piling.
The ferry is used by communities in Ardgour, Morvern and Ardnamurchan.
It is also used by people and businesses on Mull, who first travel to the mainland on the Fishnish-Lochaline ferry. The Corran Ferry and Fishnish-Lochaline services also offer tourists an alternative to the Oban to Mull ferry.