Allotment holders to be surveyed on mental health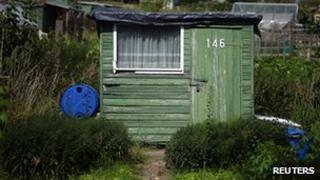 People who take over new allotments in the Highlands will be asked to complete surveys designed to assess how the gardens benefit their mental health.
Highland Council will use the Warwick-Edinburgh Mental Wellbeing Scale, a measure of mental health developed for NHS Health Scotland.
The scale involves asking questions such as if they feel useful, loved and been interested by new things.
Last year, new allotments were created in Cromarty, Nairn and Ullapool.
There are allotments in Inverness and new sites have been identified in Invergordon, Kingussie, Portree and Wick.
According to the Federation of City Farms and Community Gardens, there are 26 community garden projects in the Highlands.
They include Loch Na Mhoid Community Garden in Muir of Ord and Seaforth House Garden Project in Golspie.
In a report to councillors, Highland Council officers said holders of new allotments would be asked to fill in the wellbeing surveys before and after they take over plots.
The report - an annual report on the local authority's allotment policy - will be considered by next week's planning, environment and development committee.