Highland Council warning on holiday home rubbish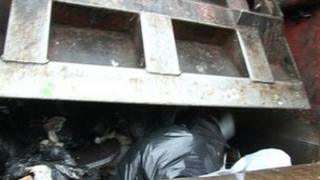 Bins will not be emptied at hundreds of holiday homes after their owners failed to enter into refuse collection contracts with Highland Council.
The authority wrote to the owners of about 600 non-domestic rated properties in the Inverness area and Sutherland.
The council said it had received 130 replies and 70 owners had taken out rubbish and recycling collection contracts.
Rubbish from holiday homes is classed as commercial waste.
From the beginning of April, Highland Council will stop providing a service to those properties where no response to February's letter had been received.
Stickers will be put on bins explaining why they were not emptied.
Holiday homes in other parts of the Highlands were contacted by the council in the past.
Wrong bin
Highland Council has tackled other waste-related problems in the past.
Last year, it blamed an increase in dropped cigarettes in Inverness for blocking drains and contaminating water that eventually reaches rivers and the sea.
The local authority handed out free ashtrays and car stickers in the city centre to raise awareness about the problem.
In 2011, it suggested fines would help to encourage households to put rubbish in the correct recycling bins.
Highland Council said that in England people can be fined if they throw waste in the wrong bin.