New company to lead St Kilda project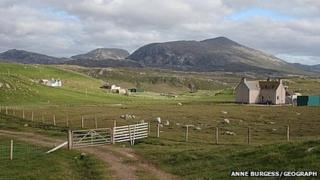 A company has been set up to push forward a project to build a centre dedicated to the St Kilda islands.
The visitor attraction is planned for a cliff-top site at Mangersta in Uig on Lewis - about 41 miles (66km) east of the remote archipelago.
Building on St Kilda's main island, Hirta, was ruled out because bad weather can restrict access to the small group of isles.
Ionad Hiort Ltd has been launched to develop the centre.
Until now, the project has been in the hands of a local voluntary group, Buidheann Leasachaidh Ionad Hiort, which has been wound up.
The new company has been registered as a charity.
St Kilda is owned by the National Trust for Scotland and is a Unesco World Heritage site.
Islanders abandoned the archipelago in the 1930s and today Hirta is only occupied for a few months of the year by trust staff and volunteers, scientists and Ministry of Defence contractors who operate a rocket testing radar.
Consultants suggested that Mangersta was the best option for the centre in 2009.
Supporters of locating it at Cleitreval in North Uist and Leverburgh in Harris claimed the criteria used to gauge the bids for the centre was changed.
However, the St Kilda Centre Working Group - a multi-agency body set up to oversee the selection process - said the criteria Jura Consultants followed was "fair".
The working group - which included representatives from Comhairle nan Eilean Siar (Western Isles Council) - considered the complaints from the Cleitreval and Leverburgh groups.
It said it believed the feasibility study process was "fair and transparent" and that there was no justification to halt the process or re-score the submissions.
The working group praised the quality of each of the bids.