Halkirk level crossing deaths: Victims' son awarded compensation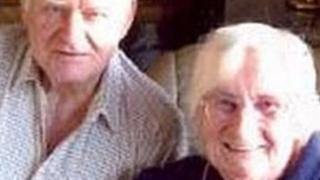 A man whose parents were killed in an accident at a railway level crossing in Caithness has been awarded tens of thousands of pounds in compensation.
Angus MacKay and his wife Margaret, both 81, from Inverness, and Mr MacKay's brother Donald, 66, of Latheron, died in the 2009 incident.
The MacKays' car collided with a train at an unmanned, gate-free crossing.
Donald MacKay sued Network Rail over alleged safety issues. The two parties reached an out-of-court settlement.
The exact figure which has been awarded to Mr MacKay, 51, from Inverness, has not been disclosed.
He told BBC Scotland that safety measures, such as barriers, at the crossing could have saved the lives of his parents and uncle.
A Network Rail spokesman said: "We have settled a legal action regarding the Halkirk incident, but it would not be appropriate to discuss the details with a third party."
The Rail Accident Investigation Branch (RAIB) published a report following the incident.
It said Network Rail "did not properly understand the risk" at the site because it had not taken a record of four previous accidents - one of them fatal - into account.
The RAIB said: "Had it done so, the level of risk might have justified more costly risk reduction measures, and risk reduction measures that had been identified might have been implemented more quickly and before the accident occurred."
Six recommendations were made on improving safety at the site.
However, the RAIB also said Mr MacKay may not have seen, or had misinterpreted, the warning lights at the level crossing and appeared not to have been wearing glasses to improve his distance vision.