Achiltibuie smokehouse could return to public ownership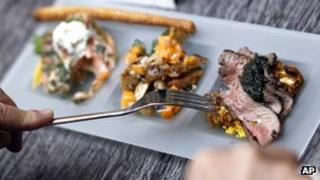 A Wester Ross smokehouse looks set to be brought back into public ownership with help from a £160,700 grant.
The factory in Achiltibuie was publicly-owned until Highlands and Islands Enterprise agreed to sell it to Summer Isles Food for £50,000 plus VAT.
Summer Isles Food later put the smokehouse on the market for £120,000.
Coigach Community Development Company is preparing to purchase the site for £110,000 using money from the grant from the Scottish Land Fund.
The Scottish government and Big Lottery-backed funding will also cover a project officer for two years.
Coigach Community Development Company's purchase of the smokehouse is still months away from being concluded.
The smokehouse was used to produce smoked fish and meat before Summer Isles Food closed it down and transferred its business to Alness, in Easter Ross, last summer.
The community company has plans to use it as a "flexible space" accommodating food and tourism industries.
Chairman Ian Muir said: "This time last year, we learned that our biggest employer and tourist attraction, Summer Isle Foods, was moving to Alness and, with all these jobs going, things looked gloomy.
"A year on and, thanks to this funding, we can complete the purchase of the smokehouse they vacated.
"It's a very exciting time for us all and we look forward to establishing a vibrant new business to bring employment to the community."
'Knockdown price'
In October, HIE defended its decision to sell off the publicly-owned smokehouse to Summer Isles Food in November 2010.
The development agency sought to delay the sale after the company said it was ceasing operations at Achiltibuie and moving the business to Alness.
However, the closure of the smokehouse went ahead last summer.
Highlands and Islands Conservative MSP Mary Scanlon said HIE had questions to answer over its handling of the smokehouse.
"I very much welcome the commitment and the success of the local community of being able to buy the smokehouse," she said.
"However, I do condemn HIE for selling this public asset at a knockdown price without seeking any commitment from the firm to remain in the area."
In a new statement, HIE said the sale in 2010 was representative of the market value of an industrial site used for smoking fish and meat.
"When the property was put on the market by Summer Isles Foods, Coigach Community Development Company, under the Land Reform Act duly notified ministers that they wished to proceed and ministers appointed a valuer to carry out a valuation," it stated.
"In this case, the valuation was £110,000, which is what the Scottish Land Fund application was based on.
"HIE had no involvement in this valuation as this is part of the formal Land Reform Act process, as instructed by Scottish ministers."