Free Church in plea over 'Wee Frees' nickname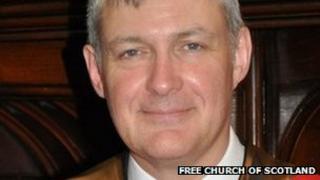 Calling the Free Church of Scotland "Wee Frees" is outdated and offensive, its moderator has said.
The church gained the nickname in 1900 when a small number of Free Church members decided not to merge with the United Free Church of Scotland.
But the Reverend Iain D Campbell said the label had led to misunderstandings and misconceptions.
He also argued that the church has some of the biggest congregations in Scotland attending 100 churches.
Dr Campbell, who is minister of Point Free Church on Lewis, said he decided to speak out after the nickname was used in recent media reports.
On the Free Church website, he said: "I'm not so sure that 'wee' is a suitable nickname for a denomination that is represented throughout Scotland, has its main offices in Scotland's capital, maintains a consistent presence on the mission field, and organises camps for hundreds of children each year."
The moderator said there was no Gaelic translation for "Wee Free" meaning news coverage in that language was more accurate and understanding.
Dr Campbell said: "It seems that once you put the label 'Wee Free' onto something, it can justifiably be the butt of any joke, and truth doesn't come into it.
"It's a bit frustrating when the wider media churns out the most ridiculous and meaningless names for a church. I can't imagine any other religious body receiving the kind of treatment with which the Free Church has had to put up for years."
He added: "Sticks and stones break our bones, and names hurt us."