Hedgehogs may have returned to cleared areas of Hebrides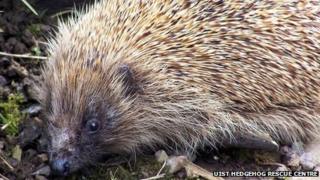 Hedgehogs are suspected of having returned to areas of the Hebrides where they had previously been removed from, Scottish Natural Heritage has said.
The mammals are not native to the isles and have been blamed for preying on the eggs of ground-nesting wading birds.
SNH began culling hedgehogs in 2003 but following calls from campaigners the agency switched to trapping them.
The trapped animals are handed over to the Uist Hedgehog Rescue charity for relocation to the mainland.
Hedgehogs were introduced to the Western Isles in the 1970s and efforts have been made over the past decade to remove them from North Uist and Benbecula.
Trapping was recently scaled back on the islands.
But the board of SNH has now agreed to increase its funding for research into predation on wading birds on the isles.
An aim of the study is to better understand the part hedgehogs play in the decline of the birds.
SNH board members have also given their approval for trappers to be redeployed to areas previously cleared of hedgehogs.