Cairngorms avalanche: Police name second RAF victim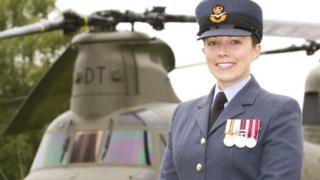 A woman who was one of three people who died in an avalanche in the Highlands on Thursday has been named.
The Ministry of Defence said 32-year-old Flight Lieutenant Fran Capps, from Dulverton in Somerset, died after the avalanche in the Chalamain Gap area.
One of the other victims had been previously named as Sqn Ldr Rimon Than, 33, who was based at RAF Valley in North Wales.
The third fatality was a student on a course at the Glenmore Lodge centre.
The young man who died was part of a second group of climbers, taking part in a winter mountaineering skills course, who were also caught in the avalanche.
Nine other people who were on the mountain at the time were unhurt.
Investigators cannot say how the avalanche was triggered.
Sqn Ldr Than, who was born in Burma, and Flt Lt Capps were part of a group of off-duty RAF personnel on an expedition in the Cairngorms at the time of the avalanche.
The avalanche happened at about 12:30 on Thursday.
The search operation involved mountain rescue teams from Cairngorm, Glenmore and Lossiemouth, search dogs, members of Cairngorm Mountain Ski Patrol and two RAF rescue helicopters.
The three climbers were found buried in the snow and were all airlifted to Aberdeen Royal Infirmary.
Flt Lt Capps was commissioned into the Royal Air Force in 2001 as a logistics officer and worked on a variety of Royal Air Force stations, the MoD said.
Most recently she had worked with the Chinook Force at Royal Air Force Odiham in Hampshire, and she had previously served on operational tours in Iraq, the Falkland Islands, Afghanistan and Qatar.
RAF colleagues paid tribute to Flt Lt Capps, who was described as "an exceptional person".
Group Captain Dominic Toriati, the station commander at Royal Air Force Odiham, said: "Flight Lieutenant Fran Capps was an exceptionally dedicated Royal Air Force officer and logistician who was well known throughout the service for her remarkable commitment, her joie de vivre and her utter professionalism."
Wing Commander Ian Richardson, chairman of the RAF Mountaineering Association, said: "Flight Lieutenant Fran Capps was a bubbly and enthusiastic member of the committee and Association.
He said: "Fran was always smiling, always enthusiastic, always welcoming and always willing to get involved and share her love of the hills with everyone in the Association and beyond. She will be sorely missed."
Flt Lt Capps was an experienced mountaineer, having taken part in a expedition in the Indian Himalayas and led a group on an expedition that circumnavigated Mount Kenya and got to the summit of Point Lenana.