Could big waves be big news for the Western Isles?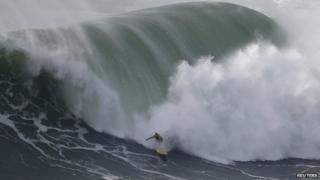 Monster waves are being recorded off the west of Lewis in the Western Isles. But why should we care?
Surfers are better known for getting excited about big waves.
Last month, American Garrett McNamara rode what may have been the highest wave ever caught by a surfer.
Experts have been asked to certify the new record - 100ft (30m) according to some reports - set at Nazare, Portugal.
McNamara holds the current world record after surfing a wave of 78ft (24m) in November 2011 at the same location.
But Lews Castle College UHI in Stornoway is trying to draw attention to giant waves for a different reason.
Hebridean Marine Energy Futures, a project involving the college in partnership with universities and energy companies, has been recording wave heights off the west coast of Lewis for more than two years.
It says wave energy in the Western Isles has the potential to generate as much power as dozens of nuclear power stations.
The project uses devices called wave rider buoys, installed about five nautical miles off Bragar and Siader in Lewis, to gather data about wave height and strength.
During winds gusting up to hurricane force on Monday, the buoys detected waves averaging 14m (45ft) in height and reaching a maximum of more than 23m (75.5ft).
Arne Vogler, a senior research engineer and principle investigator on the project, said: "The sea is still building up and even higher waves are anticipated during the day."
He added: "We are talking about vast amounts energy being deposited on our shore."
Nuclear power
The project team have calculated how much energy could be generated from the action of waves.
The average wave power measured off Lewis over a one year period, October 2011 to Sept 2012, was 75.5 kilowatts per metre.
The Saltire Prize, which was launched by the Scottish government and Crown Estate to accelerate the development marine renewables, estimated that 42.4kW/m could be generated from the same area.
"This indicates that the wave power resource off the Outer Hebrides is even better than what was thought to be the case," said Mr Vogler.
"Based on average wave power of 75kW/m and a 200km coastline from Butt of Lewis to Barra, the total mean power would be 15GW - equivalent to 12 modern nuclear power plants, such as Torness."
But according to his calculations, during storms such as Monday's, the wave power potential down the 124 miles (200km) length of the Western Isles could match the output of 120 Torness-sized nuclear power stations.
Mr Vogler added that the challenge to renewables companies would be to come up with technology able to stand up to the most extreme conditions.