Boys on bicycles 'surfed' train at Kingussie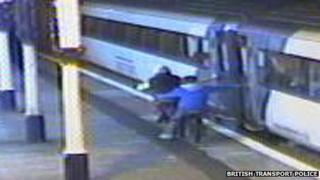 Two teenage boys on bikes have been filmed on CCTV holding onto a passenger train as it pulled out of a Highlands station.
British Transport Police described the behaviour in Kingussie earlier this month as "surfing".
The boys grabbed hold of handles on the doors of a carriage and were pulled along the platform.
BTP said the incident happened at about 19:30 on 8 January and appealed for information.
Constable Matt O'Neill said the behaviour was rare.
But he added: "It is an incredibly dangerous practice.
"I cannot underestimate how foolish it is to mess about around trains and stations.
"As well as potentially delaying trains you could be seriously injured."