Man who attacked American tourist in punishment review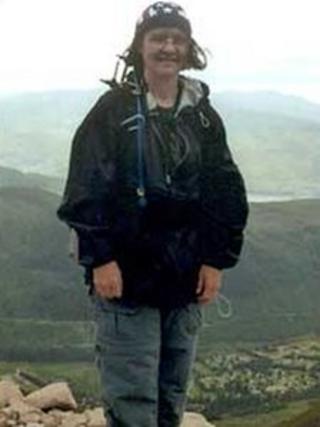 A man convicted of the attempted murder of an American tourist has had his sentence referred to the High Court of Justiciary after a review.
Colin Ross attacked Marty Layman-Mendonca, 57, as she walked near Inverness in 2006. She later died.
Ross became the first person to get an Order for Lifelong Restriction.
The Scottish Criminal Cases Review Commission has decided the punishment part of 20 years is excessive and referred it to the High Court.
Ms Layman-Mendonca, a primary school teacher, was on her third visit to Scotland.
She had been walking the last six miles of a solo trek along the Great Glen Ways, south of Inverness, when Ross attacked her with a metal pipe.
After assaulting Ms Layman-Mendonca, Ross stole from her, tied her wrists together with shoelaces and dumped her in woods.
After being treated at Raigmore Hospital, Ms Layman-Mendonca was flown to a medical centre near her home in Vermont in September.
She was later transferred to a rehabilitation centre in Bangor, Maine, where she died.
Ross, of Inverness, became the first person to get an Order for Lifelong Restriction, meaning he would be monitored for life.
Sentencing Ross at the High Court in Edinburgh in December 2006, Lord Wheatley ordered him to serve at least 20 years before he was considered for parole.
Ross, who admitted attempted murder at an earlier hearing, was told that he had committed a "savage and senseless" assault on a defenceless woman.
Northern Constabulary, whose officers found Ms Layman-Mendonca and later arrested Ross, welcomed the sentence.
Ross was the subject of a Sexual Offence Prevention Order when he launched his attack.
Less than a month earlier, Ross had been freed from a three-year jail sentence for attacking a female German tourist in 2004.