'Dead duck' in Inverness turns out to be rare grebe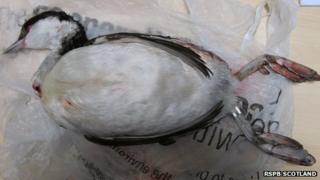 What was thought to have been a dead duck found in Inverness has turned out to be a rare visitor from Iceland.
A traffic warden came across the Slavonian grebe by the River Ness near a pedestrian bridge that links Kenneth Street to the city centre.
The warden told RSPB Scotland he had found what he thought was a dead duck with a ring on its leg.
RSPB conservation manager Stuart Benn said the grebe, which rarely breeds in Scotland, was ringed in Iceland.
It was thought the bird was killed after it collided with overhead cables.
"This is an interesting discovery as it confirms that some birds from the Icelandic population spend the winter in Scottish waters and that the Moray Firth is important for these grebes as they are for many other species of marine birds," said Mr Benn.
"The Slavonian grebe is a very rare breeding bird in Scotland and found only in a handful of lochs in the Highlands. Unfortunately, the numbers are going down."
Thorkell Lindberg Thorarinsson, the director of the North East Iceland Nature Centre, said the bird was ringed in the summer of 2011 as an adult at Lake Vikingavatn.