Vandals damage train window in Inverness station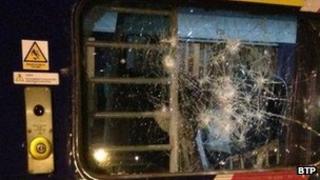 Police have appealed for information after the window on a train was damaged by vandals at Inverness station.
The window on a carriage was struck several times sometime between midnight and 02:15 on Sunday.
British Transport Police described the incident as a "wanton act of vandalism".
Constable Nicky Ritchie said: "It would appear someone has entered the station with the sole intention of committing this crime."
The officer added: "I am appealing for anyone who knows who is responsible to contact BTP as soon as possible."