Scots who fought in American Civil War remembered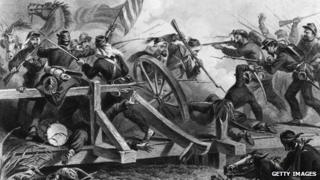 Last month, the BBC Scotland news website reported on efforts to gather the name of Scots who fought in the American Civil War. Since then, readers have suggested other names.
The US is currently in the middle of marking the 150th anniversary of the 1861-65 American Civil War.
BBC Scotland told of separate projects to recall the role men and women from Scotland and the rest of the UK played in the conflict.
They included George Henry Mackenzie, who was born in North Kessock, near Inverness, and served as a captain leading Black Union soldiers.
And Edinburgh-born Kate Cumming who became a nurse caring for wounded Confederate troops.
After the stories appeared, readers offered with other names including Robert Livingstone, the son of Scottish missionary Dr David Livingstone.
Robert was living in America at the time of the war under a new name, Rupert Vincent.
He was in his early 20s and living in poor conditions when he was press-ganged into joining the Union forces.
Disguised herself
Brothers James and Alexander McRobbie, whose father Peter was born in Crieff, Perthshire, also fought for the Union.
James survived the war but his brother was killed at the Battle of Gettysburg in Pennsylvania in July 1863.
Gettysburg was the war's bloodiest clash with 51,000 casualties.
It was also the inspiration for President Abraham Lincoln's Gettysburg Address, which features in Steven Spielberg's newly-released film Lincoln.
In the movie, the address is read back to Daniel Day-Lewis's Lincoln by Black soldiers.
Allan Mitchell, an ex-serviceman living in the Highlands, has been researching Scots who served in war for his website and has gathered several names and stories.
They include brothers James and Alexander Campbell, who fought for opposing sides.
Also, Glasgow-born Marian McKenzie who disguised herself as a man to join the Union army.
She succeeded in serving for three years in various regiments, including the 23rd Kentucky Infantry and 92nd Ohio Infantry.
Marian was thrown out of the army on occasions when her true identity was uncovered, but would then go on and join another regiment.
Bennett Burley, also known as Burleigh, was born in Glasgow and served for the Confederacy. He took part in the Philos Parsons Affair, a failed bid to free Confederate prisoners.
Mr Mitchell said: "Bennett later returned to Britain and became a war correspondent and friends with Winston Churchill. He died in 1914."