Rum castle options to be reported in summer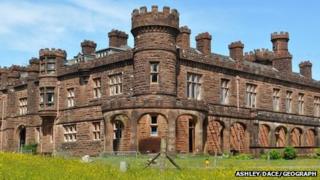 Scottish Natural Heritage has said it hopes to submit options on the future use of a 19th Century castle to the Scottish government by early summer.
A stakeholder group is examining potential ideas for the SNH-owned Kinloch Castle on Rum.
Built in the 1890s for an industrialist, the property is run as visitor accommodation and a museum.
Discussions on new, or additional uses, for the castle are being driven by the need for more funds to conserve it.
SNH, which also owns most of the land on Rum, has already carried out some work to make the sandstone building wind and watertight.
Repairs to the roof have been completed in a first phase of work, but significant further improvements are needed.
Other suggested uses for Kinloch Castle include a hostel, hotel or for use as a larger museum.
The castle was built for Lancastrian industrialist George Bullough in 1897 and he had it luxuriously furnished.
SNH said the property's heyday was during World War I. It later fell into decline and was taken over by the agency's predecessor, the Nature Conservancy, in 1957.