Calum's Road on Raasay 'falling into disrepair'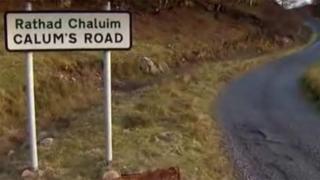 A two-mile stretch of road a crofter spent 10 years constructing has been allowed to fall into disrepair, according to those who use it.
Calum Macleod's road, between Bochel Castle and Arnish on Raasay, was taken into local authority control in 1982.
Roger Hutchinson, who wrote the book Calum's Road, said the route deserved the same attention as mainland roads.
Highland Council said the road was handled in the same way as similar routes with low traffic volumes.
A spokesperson said it would be patched up and then considered for more substantial works once the budgets for the next financial year were agreed.
Islanders have said that parts of the road, along with others on the island, have been worn down to the foundation.
Mr Hutchinson said islanders paid the same council tax as people living in other parts of the Highlands so should have similar services.
"If we accept this, those of us that live in out of the way areas in the north west of Scotland may as well pack up and go home," he said.
Mr Macleod decided to build the road to make it easier for his daughter to return home at weekends from school on the neighbouring Isle of Skye.
He spent 10 years constructing the road by hand in the 1960s and 70s.
It continues to be used by people living on the north end of Raasay.