Man dies after falling from cliff on Lewis while tending sheep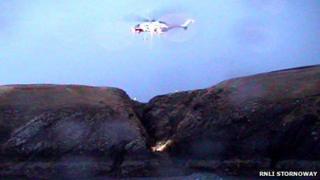 A man has died after plunging from a cliff in the Western Isles, police have said.
Emergency services were called to the area of Point on the Isle of Lewis at about 15:40, after reports a man in his 40s had fallen while tending sheep.
Northern Constabulary said the Stornoway Coastguard helicopter, ambulance service and lifeboat were all called out.
The man was airlifted to hospital but was later confirmed to have died.
The helicopter crew had managed to find the man where he had fallen down a deep ravine.
A coastguard paramedic was winched down but further assistance was needed to get the man on to a stretcher and winched to safety.
Cliff rescue teams were dropped at the top of the cliff before making their way down to the casualty. Crew members from the Stornoway lifeboat also made it ashore to assist.
Murdo Macaulay, Stornoway Coastguard watch manager, said: "This incident highlights the dangers involved in walking or working near cliff edges, particularly in wet or windy weather.
"We would urge people to exercise extreme caution in these areas."