Road works cause major tailbacks on A9 at Inverness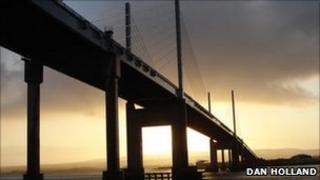 Road works at Inverness have caused major disruption for travellers headed for the city from the other side of the Kessock Bridge.
Some drivers were facing delays of three hours to travel about five miles from the Tore Roundabout in the Black Isle to a roundabout across the bridge.
The disruption was caused by a delay in reopening a lane on the A9 which had been closed for road works.
A new slip road is being constructed from Stadium Road onto the A9.
Contractor Scotland Transerv apologised for the delays.
The road works are connected to a wider project to carry out repairs to the Kessock Bridge, which will start in February.
'Absolutely vital'
Highland Council said it would seek assurances from Transport Scotland, which has responsibility for the A9, that there would not be a repeat of Monday's disruption.
Council leader Drew Hendry said thousands of people had been inconvenienced.
He added: "I appreciate there are safety issues involved but there was an absence of any warning to the public via radio or social media and this is not acceptable.
"I am sure that there must have been other options available to the contractor to secure the safety of drivers rather than closure of one lane at a peak time."
Scotland Transerv said an "unforeseen problem" during the construction of the slip road had led to the lane not being reopened as planned.
Spokesman Cathel Macaskill said: "We would like to apologise for the lengthy delays experienced by road users this morning on the A9 near Longman Roundabout."
He added: "Emergency works are ongoing to ensure we get two lanes reopened as soon as possible today and before the afternoon peak.
"These works are absolutely vital to our plans ease traffic flows during the main Kessock Bridge works and we are also putting extra measures in place to ensure there is no repeat of these unforeseen delays."