Basking sharks shoaling in large numbers off Scotland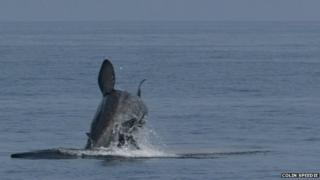 Basking sharks were recorded shoaling in large numbers off Scotland's coast last year.
Scottish Natural Heritage (SNH), the University of Exeter and researcher Colin Speedie have been examining "hot spots" for the sharks.
In a newly-released video publicising the work, Mr Speedie said shoals of 73 fish were counted off Coll.
A shoal of 50 fish were also recorded around Hyskeir, a group of rocky islets near Canna.
SNH has uploaded the video to YouTube.
Courtship activity was also recorded, including sharks breaching, or jumping out of the water.
In Scotland, the fish were hunted until 1994. Numbers of the sharks were so low they were given protected status in 1998.
Mr Speedie said historic records of where the sharks were hunted could provide clues to other "hot spots".
Basking sharks are the world's second largest fish.
They can grow to 11m (36ft) and weigh up to seven tonnes.
The slow moving plankton feeders can live to 50-years-old.