Wick teenager flushed primary's goldfish down toilet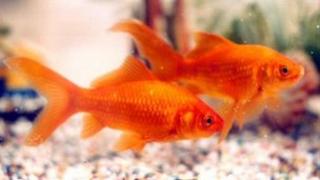 A sheriff has described a teenager's flushing of a school's goldfish down a toilet as a "miserable crime".
Kevan Fraser, 17, managed to get inside Lybster Primary in Caithness through an insecure door on 21 October last year.
Wick Sheriff Court heard that he then took three goldfish from a tank and flushed them down a toilet.
Sheriff Andrew Berry told Fraser, from Wick, that his treatment of the pets had been "singularly unpleasant and unnecessary".
David Barclay, prosecuting, said the school's janitor discovered the fish were missing when the school reopened.
Further inquiries were made and it emerged that Fraser had been seen at the school at the weekend.
Fraser later told the police that he had been stupid.
Mr Barclay said: "One view might be, that there are more serious crimes, unless you are one of the goldfish, of course."
He added that Fraser had been the subject of a bail order at the time.
Sheriff Berry said the school pupils would have had an interest in the fish.
He added: "I have come across some miserable crimes and this is well up there, with the worst of them.
"It was a singularly unpleasant and unnecessary thing to do."
Sentence was deferred until 8 February for a background report. Fraser was granted bail.