Hebrides Range Task Force challenges MoD on turbines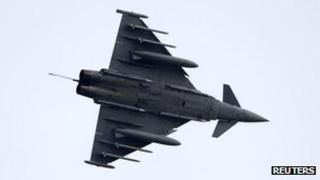 A group that campaigned against job cuts at a Western Isles' rocket range has clashed with the Ministry of Defence (MoD) over wind farms.
The Hebrides Range Task Force said the MoD was opposing renewable projects planned for Uist because the turbines may interfere with military equipment.
Following a meeting with the group, the MoD said it did not operate a blanket ban on turbines.
It said each application was assessed on its own merits.
The Hebrides Range Task force involves local authority Comhairle nan Eilean Siar.
It was set up in 2009 to fight threatened job cuts at military rocket test facilities on the Western Isles.
The group's remit also includes an effort to encourage diversification, including the growth of renewable energy industry on the isles.
In a statement, the MoD said: "Each application is assessed on its own merits.
"A technical assessment determines if a proposed turbine is visible to MoD radars such as the air defence radar at Remote Radar Head Benbecula.
"Where it is determined a proposed turbine would be visible, an operational assessment will decide if the impact of the proposed turbine is manageable or not. If the impact of the radar is not manageable, MoD will object to the planning application."