Fire service in Highlands 'will need more support after merger'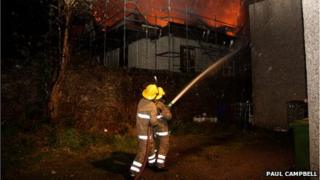 Problems at Highlands and Islands Fire and Rescue Service will not be resolved by the time it is replaced by a new single service, a review has found.
The chief inspector of fire services said HIFRS had made "impressive" progress after concerns were raised by the Accounts Commission last year.
However, his review said future stability was not guaranteed.
It added that the new Scottish fire service will have to find funds to continue the improvements.
The Accounts Commission made a series of recommendations about the service in March last year.
Since then, HIFRS has been trying to run its network of stations more effectively and efficiently and improve the training of its firefighters.
In October, the Scottish government commissioned the HM Chief Inspector of Fire and Rescue Authorities, Steven Torrie, to review the improvements which had been made.
'Impressive progress'
In his newly-published report, he praised the progress made by fire chiefs and the fire board in areas such as tackling a backlog in training.
However, Mr Torrie added that the new Scottish Fire and Rescue Service, which comes into effect on 1 April, will have to consider "whether and how, within its own reducing budgets, that degree of support can be maintained".
"We are very clear that despite the impressive progress which is being made, sustainability and stability in the Highlands and Islands area is by no means guaranteed at this point," he said.
Deputy Chief Fire Officer Stewart Edgar, interim leader of HIFRS, said the review recognised the efforts which had been made to address issues at the service.
He added: "The professionalism and dedication of all our staff this year has demonstrated that we are once more a driving force with regards community safety and emergency response.
"This is all delivered in what I believe is the most challenging environment any UK fire and rescue service operates in."