Anger at poo on footpath to mountain Creag Meagaidh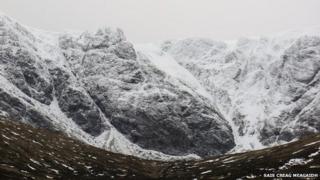 An avalanche risk forecasting team has expressed disgust at finding human excrement on a footpath to one of Scotland's tallest Munros.
The waste and rolled up tissue were at a spot in Coire Ardair near 1,128m (3,700ft) Creag Meagaidh, about 20 minutes walk away from a public toilet.
Sportscotland Avalanche Information Service's local forecasters said the area was an almost pristine place.
Creag Meagaidh forms part of a national nature reserve.
The mountain lies between Inverness and Fort William.
One of the avalanche information service's Creag Meagaidh forecasters said Scottish Natural Heritage built a toilet for visitors to the area two years ago.
He added: "As toilets go it's a good one. It's clean, well lit, has copious amounts of bog roll. It's even got its own heating system.
"You can't miss this particular public convenience because it's exactly as stated: very public and very convenient.
"Almost all visiting Creag Meagaidh will have passed right by it. It's difficult to miss, so please use it."
Five years ago, Cairngorms Ranger Service sought to tackle problems with human waste being left on their mountain range.
A "poo chute" was designed to help dispose of faeces after the waste was found in snow-holes - shelters dug by climbers and walkers into a snow-covered mountainside.
There were worries the waste was contaminating the River Nethy and Loch Avon Basin.
The chute was set up near the Cairngorm Ski Area car park.
Visitors are encouraged to pick up bags and a light, rigid bottle with a screw top called a BHD from the ranger base free of charge.
Coming off the hills, walkers and climbers deposit the bags - which are soluble at 40C - down the chute into a sewage plant and place the bottles in a sterilization barrel.