What happened to Frozen Planet's bear cub Walker?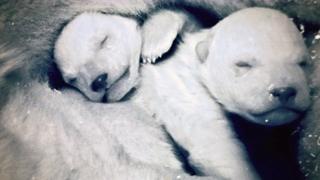 New BBC wildlife series Africa makes it clear when animals have been filmed under controlled conditions and not in the wild. The move comes a year after a row featuring a polar bear cub now living in Scotland.
In December 2011, the BBC denied misleading viewers with footage of newborn polar bear cubs filmed in an animal park, rather than in the wild.
Episode five of the wildlife series, Frozen Planet, screened the previous month featured the cubs in a den with their mother, with many people assuming they were born and filmed in the Arctic.
But the cubs were actually in Rhenen Zoo in Holland, as revealed in behind-the-scenes footage on the show's website.
The BBC said the filming was "standard practice" for natural history shows and the sequence with the cubs would have been impossible to film in the wild.
Frozen Planet's presenter Sir David Attenborough also said at the time that an explanation about the animal park footage would have ruined the atmosphere of the sequence.
Ahead of the start of Africa this week, the series producers said they felt it "appropriate to be more explicit" about the origins of such sequences.
But a year on from the Frozen Planet row what became of the episode's tiny bear cubs?
Sadly one of the cubs died, but his brother is now in the collection of the Royal Zoological Society of Scotland's (RZSS) Highland Wildlife Park at Kincraig, near Aviemore.
Called Walker, he arrived at the park in November 2010 when he was two years old.
Mercedes, an aged female that had been kept at Edinburgh Zoo, was already a resident having been relocated in 2009.
The old and young bears were introduced to each other gradually, but for a time were divided by a wire fence.
When they did first share the same enclosure, Mercedes made it clear to Walker that she was top bear. She chased him during a series of noisy confrontations.
The park's animal collection manager Douglas Richardson said at the time: "He wants to play and she wants to tear his head off."
In February 2011, Walker required dental treatment to a canine damaged when he was still a cub. It took 10 people to lift the sedated bear onto a make-shift operating table to have root canal done on the tooth.
Two months later and 30-year-old Mercedes was "put to sleep" after a rapid deterioration in her health and welfare.
But Walker was not on his own for long.
In April last year, Arktos was brought in from Hannover Zoo in Germany where he had shared an enclosure with Nanuq.
The older male bear was to teach Walker an important lesson - how to wrestle polar bear-style.
Arktos had finely honed his skills in tussles with his brother, while Walker lacked them having lost his brother at a young age.
The bears' keepers could only look on as Arktos finished each bout by placing a paw on felled Walker's head, before letting him back up and starting a fresh round of wrestling.
By the end of the high jinks rolling in mud, the pair looked more like brown bears.
Walker and Arktos continue to share an enclosure today.
In November, park staff marked Walker's fourth birthday. He is still a few years away from being at full adult size, but has developed a fondness for playing with old yellow construction site hard hats and plastic barrels.
At meal-times, Walker and Arktos are fed apples, fat chunks of fish and sometimes a deer carcass each. Dinner times for the pair usually takes place amid a flock of opportunistic squabbling jackdaws.
The bears' favourite treat is corn on the cob, which they often chew on while lying on their backs in a pond in their enclosure.
The RZSS has a long-term plan to introduce a female bear to the park as a mate for one of the males.
Potentially, Walker could father cubs that would offer a new opportunity to film the secret world of a polar bear mother in her den.