Stromeferry bypass: A890 reopens after landslip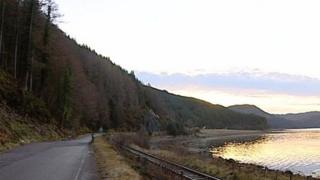 A road in the west Highlands which was closed after a landslide on Christmas Day has reopened to traffic.
Almost 20 tonnes of debris came down on the A890 Stromeferry bypass, causing a diversion of almost 150 miles for motorists.
After the rock had been cleared, concerns had remained that a cracked, overhanging cliff face could have dislodged.
It has now been removed and the road reopened just after 17:00.
The closure was the second to hit the Lochcarron to Kyle route in a year.
Last December, it was shut by a landslip which involved 100 tonnes of rock.
This left it blocked for four months and sparked a Highland Council investigation into how to prevent further disruption.
Alternatives being looked at are building a bridge or causeway across the Strome narrows, driving a new road inland or substantially upgrading the existing route.
However the cost could reach £115m and work may take up to three years to get under way.
When the route was closed at the start of the year a temporary road was placed along the railway line using rubber matting and a ferry had to be brought in to help children get to school.