Harris Tweed production hits million metres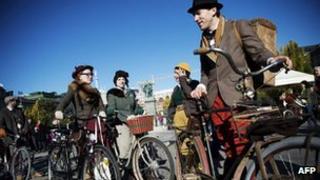 The Harris Tweed industry is celebrating a successful 2012 which has seen the highest levels of cloth production for almost 15 years.
More than a million metres of tweed have been produced by mills over the past 12 months.
The cloth is woven on the Western Isles and sold in the UK and exported to countries including Japan and Germany.
Donald Martin, chairman of the Harris Tweed Authority, said the organisation was very pleased.
In October, the Harris Tweed Industry Forum said 2012 has been the "best year" for production in almost 15 years, and forecast production would reach to more than a million metres of cloth by the end of the year.
In 2009, after several years of uncertainty for the industry and concerns about a declining and ageing workforce, production ran to just 500,000m.
In the 1960s, production ran to about seven million metres of cloth.