North Highland College launches online ancestry courses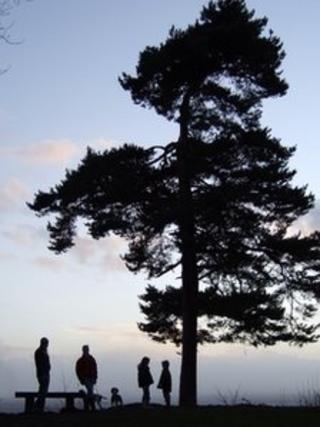 A university has launched online courses to help people research their family history and businesses to cash in on ancestral tourism.
Cameron Taylor, a former director of tourism in Orkney, worked with North Highland College UHI on the project.
He said people making "homecoming journeys" from overseas to trace family roots were more likely to stay longer in Scotland than other tourists.
They were also more inclined to buy local products.
Mr Taylor, who wrote a book called Rooted in Scotland: Getting to the Heart of your Scottish Heritage, has previously worked as project consultant to VisitScotland's AncestralScotland initiative.
From past experience helping to organise trips to Orkney by Canadians and others investigating their connections with the Northern Isles, the former tourism chief said ancestral tourism could benefit local communities.
'Sense of connection'
Mr Taylor also said "homecomers" enjoyed a richer experience if local people, museums and businesses have knowledge about the process of tracing family trees and were able to plan how to meet the needs of visitors.
He said: "I saw how much better the experience of homecomers is if local communities are prepared for their role as hosts, and how much communities which get this right can benefit.
"The evidence is that people on homecoming journeys stay longer and spend more in the communities they visit, and try where possible to buy local products.
"People exploring their ancestry are not ordinary travellers by any means. They feel a sense of connection with their ancestral homeland and use their visit to gather information and impressions to add to their personal knowledge and understanding."
Working with the online team at Thurso's North Highland College UHI, Mr Taylor has helped to put together the two new online courses.
The first provides an introduction to Scottish ancestral research.
The second is ancestral tourism and is aimed at businesses, organisations and individuals providing services to homecoming visitors.