Documentary to 'reveal untold' Skye Bridge toll stories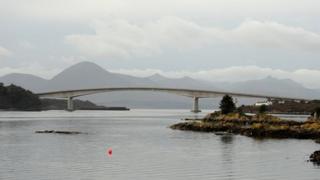 A documentary to be shown on New Year's Day will tell untold stories of the campaign to have the Skye Bridge toll abolished, BBC Alba has said.
Within hours of the bridge opening, anti-toll protesters were arrested for failing to pay the £5 charge.
About 130 people were later convicted in court. The Scottish Executive ended the toll in December 2004.
Gaelic TV channel BBC Alba said a feature length cinema version of The Bridge Rising would be released later.
The television documentary includes interviews with a campaigner who was jailed, the local police sergeant who arrested him, and the procurator fiscal who convicted him.
David Hingston, the fiscal involved, has previously spoken out about the way campaigners were dealt with.
Legal document
In an interview with BBC Scotland in 2006, he said he was denied access to the legal document which allowed the tolls to be imposed.
Mr Hingston, now a private practitioner, said it was "stunning" that he had not seen the licence giving bridge operators the right to charge drivers.
The first person to refuse to pay to cross the bridge on the day it opened in October 1995 died in February this year.
Donnie MacDougall, 82, was from Sleat on Skye.
His stance led to thousands of others to campaign against the toll which was eventually abolished in 2004 by the Labour/Lib Dem Scottish Executive.
Mr MacDougall was the first driver to approach the toll after the road bridge opened to the public.
The Bridge Rising will be shown on BBC Alba at 20:05 on New Year's Day.