White Christmas decided by 'warring' in the air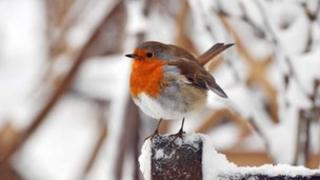 A "battle" between two air masses will decide whether Scotland gets a white Christmas, a meteorologist has said.
Dr Eddy Graham, a lecturer in climate at the University of the Highlands and Islands, said it was likely to be wet and windy.
However, he said there could be significant snowfall over the mountains, particularly in the north.
Dr Graham has previously rated Scottish cities chances of a white Christmas.
Using Met Office statistics, he suggested one year in six is likely to be white in Aberdeen, one in eight in Inverness and one in 10 in Edinburgh.
For Glasgow the chances fall to one year in 12.
Looking towards this Christmas, Dr Graham said: "The current meteorological prognoses for the week ahead indicate that Scotland will remain within the 'battle-ground zone', between very cold continental air lying just to the east of Scotland and much milder Atlantic air located to the south-west of Ireland.
"There is currently no clear signal as to which air mass will eventually win the battle.
"Thus, both colder and warmer spells of weather are expected between now and the Christmas holiday period."
He added: "Where the two air-masses meet each other in the form of weather fronts, heavy precipitation is likely at times, together with strong winds. Further significant snowfall is possible over the mountains, particularly in the north of the country."