Citizens Advice Scotland report reveals 'delivery rip-off'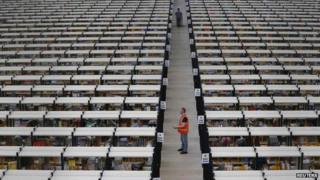 More than a million people living in Scotland are being "routinely ripped off" by unfair delivery charges, according to Citizens Advice Scotland.
In a new report, it said people living in some remote and rural areas were paying £18.60 extra to have goods bought online sent to their homes.
CAS said 335 of 534 retailers it investigated charged more for delivery to certain parts of the UK.
A distributor reponding to the report said cost of fuel was a factor.
David McCutcheon, of Bullet Express, told BBC Radio Scotland that it was more expensive to make one delivery to a rural location far from a distribution centre than in a city where 10 or 15 deliveries were being made in a single day.
According to CAS' new report, The Postcode Penalty, some retailers refused to deliver to postcodes such as KW in the far north.
A small number of firms also said they would not send goods to properties with the postcode AB, which CAS said covered 432,380 residents in Aberdeen and Aberdeenshire.
CAS also reported that firms were placing Aberdeenshire, Moray, Argyll and Bute and Perthshire in the Highlands and Islands for charging purposes.
Consumers rated Amazon best for charges and delivery times, while eBay was deemed to be the worst.
However, CAS said Ebay had since changed its delivery policy.
The report examined the delivery charges of more than 500 retailers and also drew on 3,191 responses from the public.
CAS also worked with the Office of Fair Trading, Consumer Focus Scotland and Highland Council Trading Standards in putting together the document.
Susan McPhee, head of policy at CAS, said: "Many Scots are being routinely ripped off by unfair and unjustifiable delivery charges just because of where they live.
"That is clearly and deeply unfair, and it cannot be allowed to continue unchallenged."
She added: "This campaign has had some success in persuading some companies to change their ways - most notably Ebay, which has adjusted its policies as a result of being presented with this evidence.
"But we call today on all online companies to examine their delivery policies and make sure they are not applying this unfair postcode penalty on Scotland."
'Parcel summit'
CAS got its figure of 1,018,727 "ripped off" consumers by totalling up the number of residents in the 10 postcode areas facing the highest charges, longest waits for deliveries and even being denied deliveries by some companies.
Mr McCutcheon, a co-founder of Scottish distribution company Bullet Express, said the operation of private firms should not be compared with Royal Mail because its methods were based on a time when it was still nationalised.
He added: "The transport industry is under huge pressure and costs to upgrade their fleets for health and safety. Money is being squeezed all the time so rural deliveries are going to take a hit. It is because of market forces."
James McNicol, operations director of eBay business Tim and Jims Ltd, said retailers tried to keep costs down for customers.
He said: "Most of our items are small and we use Royal Mail.
"However, for larger items we have to use courier services. All couriers charge extra for Highlands, islands and Northern Ireland - in our case it is an extra £10 which we don't fully pass on."
The release of Postcode Penalty follows work CAS did in 2011 that looked at online shopping experiences in Scotland.
Its publications also comes just weeks after a "parcel summit" was held to discuss ways of improving parcel delivery services in Scotland.
Enterprise Minister Fergus Ewing chaired the meeting in Inverness with delivery services and retail bosses.
The talks followed research by Consumer Focus Scotland that suggested people living in Scotland paid high prices for poor services.
The summit looked at charges and whether delivery office and collection point opening hours need to be changed.
The Scottish government said the discussions were the first of their kind in Scotland.
According to CAS, there is a top 10 of "usual suspects" of postcodes which some retailers will not deliver goods to: