Great Drowning of Ness 150 years ago remembered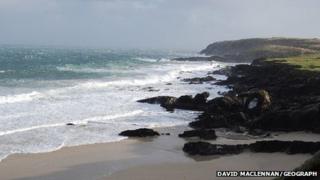 The loss of 31 fishermen in a storm 150 years ago is being remembered in the Western Isles community where they had lived.
Known as Am Bathadh Mor - The Great Drowning - the incident left 24 widows and 71 children fatherless in Ness in the north of Lewis.
Ness Historical Society is marking the anniversary.
Five boats sank in the storm and 30 of the crew drowned, while one other man died while being taken to Caithness.
It was one of the worst peace-time tragedies to hit the Western Isles.
Following the end of World War I a ship carrying hundreds of sailors home was wrecked on a reef called the Beasts of Holm off Lewis in the early hours of 1 January 1919.
The Iolaire disaster saw 205 of the 280 passengers killed. Most of those who died were from Lewis and Harris.
Anne Macleod, of Ness Historical Society, said the loss of 31 men in The Great Drowning made national news at the time.
She said: "They went fishing in the morning when the weather was quite calm.
"They were taking advantage of the calm weather, but at around lunch-time that day a storm arose in the north west and caused a lot of damage, not just in Ness, but all of the country."
A national appeal raised £1,500 for the fishermen's families, however, shortly after the donations were distributed the money was taken away as rent for the crofts they lived on.