Storm surge damage surveys start in Highlands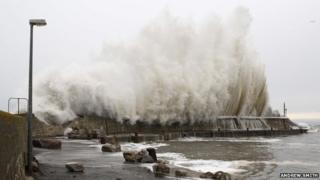 Highland Council has started surveys of damage to sea defences, piers and harbours following the weekend's storm surges.
The local authority said Wick, Helmsdale, Brora, Golspie, Embo, Portmahomack, Balintore, Cromarty, Rosemarkie and Nairn were affected.
Council staff cleared debris from roads and paths following the storms.
Highland Council's early estimates of the cost of repairing sites it owns run to more than £1m.
In Wick, sandbags were handed out to some residents during the storm which broke up parts of a road south of the town's harbour.
Minor damage was caused to the council-owned harbour in Helmsdale.
At Golspie about 100m of railings were washed away and some heavy slabs were lifted along the promenade.
Highland Council said it was assessing the area for public safety and the potential costs of repairs.
A sea wall on the perimeter of a private static caravan site at Golspie was also breached followed by widespread flooding was experienced.
The sea wall at Balintore was also breached and the village's coastal defences were damaged.
The South Suitor footpath at Cromarty, a path in Rosemarkie and the promenade at Nairn were also affected.
Transport, environmental and community services chairman, Graham Phillips, praised the efforts of council staff and the emergency services during the storms.
He added: "I can assure those affected that the council is currently assessing the level of damage and will be producing a programme of essential repairs.
"We need to prioritise as much as possible to ensure that emergency works are done as soon as possible. More detailed surveys will be required of our piers and harbour areas, including underwater surveys where necessary."