Scottish mountain track controls branded 'feeble'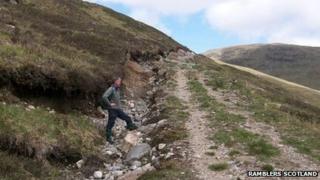 Mountaineers have branded the Scottish government "feeble" for not placing stricter controls on building tracks through the country's hills.
The Mountaineering Council of Scotland (MCofS) has been campaigning for all tracks to require planning permission.
The council said the government was failing to stop tracks being "bulldozed through unspoilt landscapes".
The Scottish government said it would continue to promote good practice and design in the creation of tracks.
The MCofS said tighter planning laws would prevent landowners claiming tracks were for agricultural use, when it said some were used for shooting parties or other recreational purposes.
'Easily abused'
The mountaineering group has accused Planning Minister Derek Mackay of allowing a "free-for-all" to continue, which could see more "unsightly and damaging" tracks.
MCofS chief officer David Gibson said: "We're just days away from the 2013 Year of Natural Scotland and the Scottish government has once again proved feeble in the protection of our countryside.
"We have a crazy situation where some tracks need permission and others don't.
"This is easily abused by landowners who claim a track is agricultural when its only purpose is to get 4x4s to places which most people could walk to. Even worse, the tracks are often badly built, ugly and do real damage to plant and wildlife."
A Scottish government spokesman said that after consultation the minister announced that existing permitted development rights for agricultural and forestry tracks would not be amended at this time.
The spokesman added: "We will keep this issue under review.
"It is important that we strike the correct balance between the development of hill tracks and protecting our environment and we will continue to work with stakeholders to promote good practice and design."