Highland Gunners change name to Scottish Gunners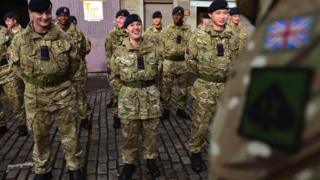 The 19th Regiment Royal Artillery, the Highland Gunners, has become The Scottish Gunners as part of the Army 2020 restructuring process.
Scotland's only artillery regiment is based at Tidworth barracks, in Wiltshire, where a parade was held on Wednesday to mark the name change.
The regiment recruits from the Highlands, Grampian, Tayside, Fife, central Scotland and Argyll.
Homecoming parades were held in Dundee and Inverness last month.
The regiment was given the freedom of Inverness in 1999.
The homecoming parades were held to mark the gunners return to the UK following a deployment to Afghanistan.
The gunners operated on foot and in armoured Jackals in Helmand Province and also trained Afghan police and army personnel.
Lt Col Andrew Dawes, commanding officer, said it was important that the regiment's name represented the whole of Scotland.