Chasing a Christmas card 'from the edge'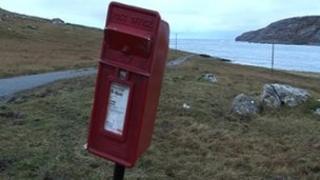 BBC Scotland has followed a Christmas card from Vatersay in the Western Isles to Inverness. It was a journey that saw the mail pass through the hands of some colourful characters.
Vatersay is home to Scotland's most westerly collection of post boxes.
They are few and far between on the island, which is more than can be said for its menfolk. Apparently, there are more single men per square mile on the isle than anywhere else in the UK.
But while following the journey of a Christmas card, it became clear that our Vatersay boy only had eyes for one thing.
"It's got to be the best in Britain," says the island's postie Michael Campbell. "On a beautiful day like today where would you rather be than standing beside this nice post box?"
With its wild Atlantic backdrop, as post boxes go, it is pretty in spite of its slightly squint wooden leg. But love is blind for Michael, who empties boxes by day and plays one by night in the popular Vatersay Boys Ceildh Band.
He says: "I do a wee bit more walking with the day job. At night I'm just sitting down playing an accordion."
Joking aside, this island postie takes his main job very seriously. Michael says: "It's very important to the community, anything going to the mainland usually goes out by post so it's very, very important to islanders."
He's about to collect the first of many Christmas cards being posted by islanders to family and friends on the mainland this year.
It is nine in the morning and Mairi MacNeil from Vatersay has just posted one to family in Inverness.
She says: "I hope it gets there alright and I hope they're all fine."
It's a challenging journey, particularly in winter, as delivery is dependant on good road, sea and air links.
After a causeway crossing from Vatersay, next stop is the nearby island of Barra where the card gets its official postal stamp at Castlebay Post Office.
By mid-morning, it's time to get the mail off the island by Caledonian MacBrayne ferry. Here the card takes to the water for the first time across the Sound of Barra to Eriskay.
In Eriskay, our third island, a post bus is waiting. Here postie Morag Walker, a native Gaelic speaker, picks up passengers as well as the mail, including our Inverness-bound card.
Emptying 26 post boxes along the route which takes in South Uist, Morag can't relax until delivering her post bags safely to Balivanich on the next island of Benbecula.
She says: "It's a lot of responsibility. I'm always so glad when I get to Balivanich and I hand everything, including all the special deliveries, over to post mistresses Mary Effie and Mary Margaret. It's a huge relief for me then."
Once the post from the southern isles and North Uist is sorted, the Royal Mail's chartered plane is cleared for take-off for the next leg of this cross country journey.
To cope with the increase in mail in the run-up to Christmas, Skynet 25 is one of two daily flights out of Benbecula. It would normally fly to Inverness, but because of the special festive arrangements, the Vatersay card is flown along with the rest of the morning mail to Glasgow.
After being driven up the A9 overnight it arrives in Inverness where, after a spell in yet another sorting office, it's about to reach its final destination in the Scorguie area of the Highland capital.
It can be a logistical nightmare at times for Eddie Mackenzie, the Royal Mail's manager in the Western Isles.
He says: "Things have gone well today, but we must remember that this goes on six days a week and today is just a small example of the service we provide to people in the islands.
"Obviously in past winters we've experienced some horrendous weather and ultimately we have to look after the health and safety of our staff.
"They come first but at the end of the day we still have to try and get the mail delivered on time."
So in the true spirit of the festive song Twelve Days of Christmas: Five islands later, four postmen and women, three modes of transport, two happy customers and one day later, without a partridge in sight, the Christmas card from the edge has finally been delivered.