Councillors move to block RSPB Scotland funding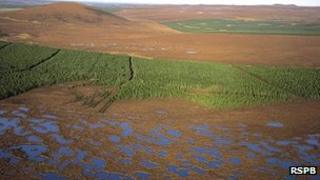 A decision to give £10,000 of council funds to an RSPB Scotland peatland restoration project has been challenged by 10 councillors.
Highland Council's Caithness and Sutherland Area Committee approved the funding from the Landfill Community Fund last month.
The money is to help cover the cost of blocking up open drains in parts of the Flow Country in the far north.
The councillors argue that the drains should block naturally over time.
RSPB Scotland said the ditches dated back to the 1950s and had not blocked up or stopped draining water from peat over the last 60 years.
The 10 councillors will ask the full meeting of Highland Council next week to overturn the decision.
Robert Coghill, Bill Fernie, Donnie MacKay, John Rosie, Jamie Stone, John Gordon, Alasdair Rhind, Alister MacKinnon, Michael Green and Billy Barclay are behind the move.
Local economy
In an amendment, the councillors said RSPB Scotland had provided Caithness and Sutherland Area Committee with no details on the Drain Blocking for Peat's Sake - Restoring the Flow Country's Threatened Peatlands project.
The councillors added: "We propose the project should not be funded as the drains will block up naturally over time".
RSPB Scotland has a reserve at Forsinard in the Flow Country, Europe's largest intact expanse of blanket bog.
The reserve and wider area provides habitat for rare plants and birds such as hen harrier and golden plovers. It also acts are a store of potentially environmentally damaging carbon.
George Campbell, regional director of RSPB North Scotland, said to restore peat bog it had to be kept wet and not be drained.
He added: "The total cost of the work is £12,000 and that money will go back into the local economy because it will be a local contractor that will do the work."