Carrbridge crofthouse to be dismantled and moved to Highland Folk Museum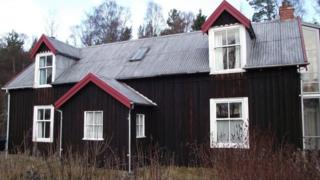 A crofthouse built in the 1920s is to be dismantled and moved 22 miles (35.4km) away to a museum of rural life, where it will rebuilt.
The property at Lochangully, Carrbridge, will become an exhibit at Newtonmore's Highland Folk Museum.
It will be used to show how a croft in the 1950s looked.
Grants totalling £80,485 will cover the cost of the work, which involves museum staff and Cairngorms Construction Skills Project trainees.
The land on which the crofthouse sits has been in Mary Hay's family since about 1890.
Mrs Hay and her husband Phil have donated the crofthouse to the museum.
'Very valuable'
The porch of the house, along with a kitchen extension, could be removed before Christmas, leaving the original carcass of the building to be dismantled and moved early next year.
The reconstruction work is expected to start in spring and the house should be fully rebuilt by autumn.
However, it will be 2014 before the new exhibit is ready to receive its first visitors.
Bob Powell, principal museums officer with High Life Highland, said: "Projects like this are long-term but very much worth it when you consider that you are preserving important examples of Scottish history and lifestyles.
"I personally would like to thank Phil and Mary Hay for their generosity towards the project and their very valuable input."