Robins left off SNH general licence list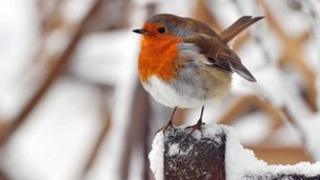 Robins have been left off a list of birds that can be killed legally without the need for an individual licence to do so.
Scottish Natural Heritage has published the results of consultation on changes to general licences which allow the control of certain species.
SNH said there had been "widespread disagreement" among respondents about covering robins under general licences.
Non-native ruddy duck and Canada goose have been added to the general list.
General licences cover activities with low conservation impacts, and mean people can operate under them without the need for individual licence applications to be made.
SNH said general licences were still subject to strict terms and conditions.
Next year, ruddy duck will be covered under general rules because of the "potential ecological impact" they pose to native species.
SNH said the move would allow for greater flexibility in controlling the ducks.
In 2013 it will also be possible to kill Canada goose, another non-native bird, under general licence rules where they were found to be damaging crops.
The geese also compete with rare black-throated divers for nest sites.
In a report carrying the results of the consultation, SNH said individual licences would still be needed for robins.
SNH said: "There was widespread disagreement that these species should be included on the general licence for public health issues.
"As such we will not include them but will continue to assess, on a case-by-case basis applications to take individuals when they pose such a threat."